Bastrop County

Fence Repair

Have you noticed weather damage to your fence? Is your fence damaged or in need of repair? Doing it yourself may be tempting, but without the right equipment, you could damage your fence or even injure yourself. Instead, entrust your next repair project to the experts and take advantage of the many benefits of professional fence repair.

Our fence repair services provide prompt and efficient solutions to restore the integrity of your fences. Our skilled team excels in diagnosing and addressing issues such as damage, sagging, or loose panels. With our expertise, your fences will be repaired quickly and effectively, ensuring their longevity and continued functionality.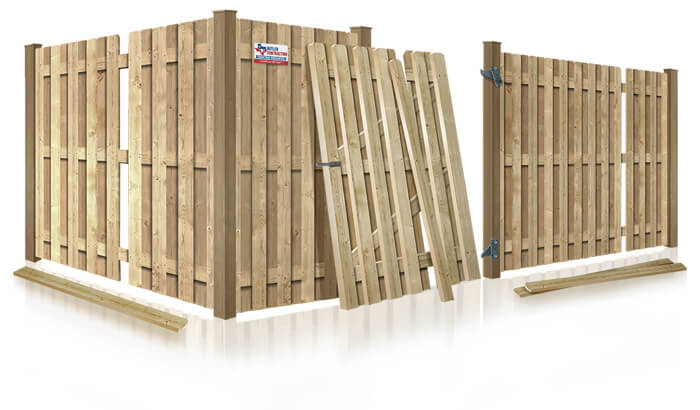 Fence Repair

Popular Options

Our team is ready to tackle your fence repair, making it as good as new again!
When it comes to aluminum fence repair, prompt attention and proper techniques are essential. Whether fixing a damaged post, replacing a broken panel, or addressing rust and corrosion, our professional repair services can restore the functionality and aesthetics of your Central Texas aluminum fence. By relying on experienced professionals and using high-quality materials, you can ensure that your aluminum fence is repaired effectively, maintaining its durability and visual appeal for years to come.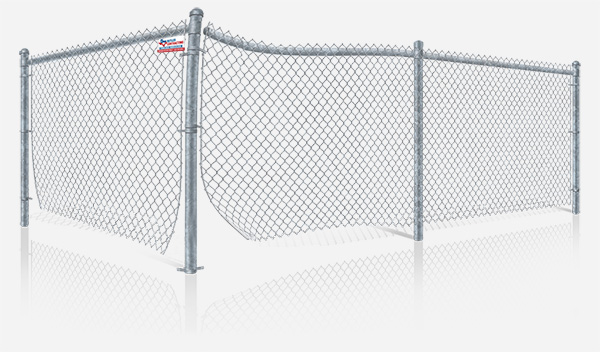 Timely and expert repair is crucial for maintaining the integrity of a chain link fence. Whether it's repairing a bent post, replacing a damaged section, or fixing a sagging gate, professional Bastrop County chain link fence repair services can address these issues efficiently. With the right tools and expertise, we can restore the strength and security of your chain link fence, ensuring it continues to serve its purpose effectively.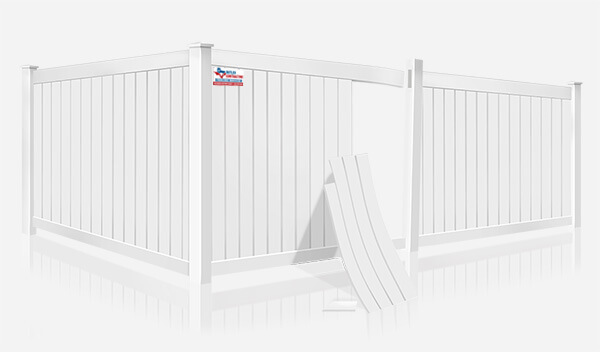 When it comes to vinyl fence repair, prompt attention and quality workmanship is essential. Our Bastrop TX professional vinyl fence repair services can restore the appearance and functionality of your fence by repairing a broken panel, fixing a loose post, or addressing issues with the gate. With our expertise in working with vinyl materials, we can ensure a seamless repair that enhances the durability and longevity of your vinyl fence.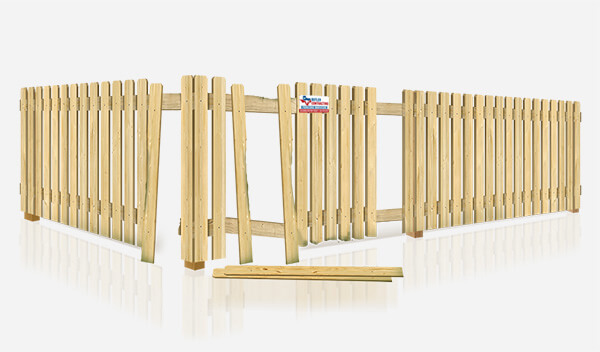 Wood fence repair requires careful assessment and skilled craftsmanship to restore the beauty and structural integrity of your fence. From repairing rotting or damaged boards to fixing leaning or sagging sections, professional Bastrop County wood fence repair services can address a variety of issues. With our knowledge of wood types and techniques, we can seamlessly match new materials with existing ones, ensuring a cohesive and long-lasting repair that revitalizes your wood fence.
Ornamental iron fence repair involves the expertise of skilled professionals who can restore the elegance and strength of your fence. From repairing bent or damaged sections to fixing loose or broken components, we meticulously assess and address various issues. With our attention to detail and knowledge of ornamental ironwork, we can expertly weld, straighten, and refinish the fence, ensuring a durable and visually appealing repair that enhances the overall aesthetics of your ornamental iron fence in Central Texas.
Get a FREE Estimate
If you are interested in a new deck, pergola, or gazebo in the Bastrop County area, CONTACT Butler Contracting today. We are here to help answer questions about your fence and the best options for your residential or commercial property.
When To Call The Experts
If you're "on the fence" about whether your fence needs repair, explore these common signs that it might be time to call your local fence repair company:
Mildew buildup
Broken or splintered boards
Chipped paint
Leaning posts
Bloated or warped wood
Discoloration
Termite-infested boards
Squeaking hinges
If you think your fence could use some TLC, don't DIY; call experienced fence repair professionals.
Regular maintenance is crucial for the longevity and aesthetics of your fences. Wood fences should be restrained every two to three years to safeguard against rain and humidity, while metal fences require sealing every five years to shield against UV light radiation. Just as you take your car for routine tune-ups, scheduling fence maintenance ensures optimal appearance and functionality, providing peace of mind for your valuable investment.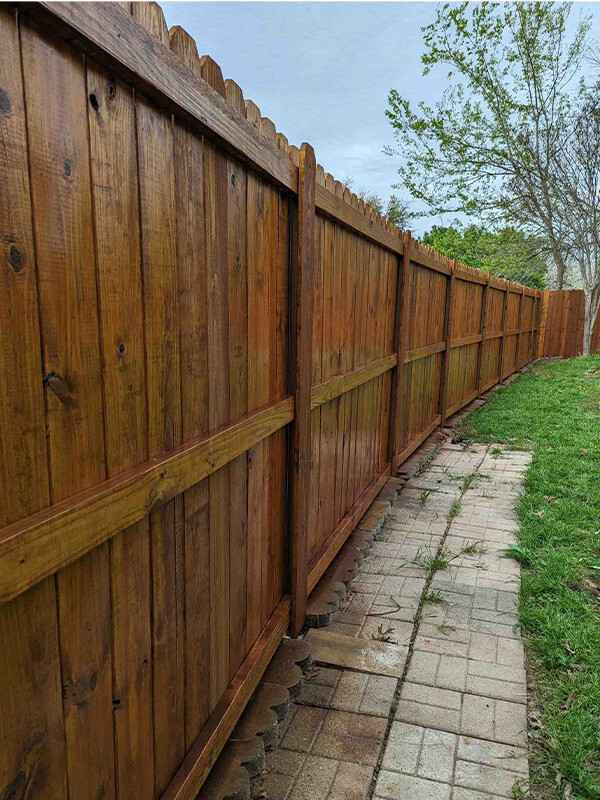 Advantages of Fence Repairs

by a Professional Fence Company
Save Time
DIY fence repairs could take multiple days to complete by yourself. First, you must research the proper tools and equipment needed for the repairs, followed by more research about the specific problem affecting your fence. Without the proper techniques, an anticipated one day of work can turn into a week-long project.
Save yourself the hassle of completing fence repairs on your own. Once you've contacted your local fence repair experts and explained your fence's main concerns, a trained expert can complete most repairs in as little as one day. Don't waste time with DIY; contact your local contractor to get your fence fixed by the pros.
Save Money
Improper DIY fence repair can lead to more significant problems in the future. Untreated mold and mildew lead to rot, which spreads throughout the fence's structure. Accidents and further damage will likely occur if the screws and fasteners stabilizing the fence structure becomes loose.
Avoid costly mistakes by contacting a trained fence repair specialist. Fence companies already have all the tools on hand to repair or replace your damaged fence, including: power washers, drills, digging bars, saws, replacement fence board and hardware. Purchasing all these tools yourself isn't necessary when you can call a certified fence repair company and have the job done right.
Achieve Better Results
Achieving optimal results for fence repair requires the expertise of a professional fence contractor. Different types of fences demand specific repair services, with wooden fences necessitating different tools and techniques compared to metal gate repairs involving eyehooks and turnbuckles. Fence repair specialists possess the industry knowledge and essential equipment to address all your repair needs effectively.
DIY fence repair lacks the experience of professionals who have encountered various fence issues. To ensure successful outcomes for your next fence project, it is paramount to reach out to seasoned experts. Don't compromise on the quality and longevity of your fences; trust the expertise of professional fence contractors to deliver exceptional results that enhance the beauty, functionality, and value of your property.
Stay Safe
Embarking on DIY fence repair poses risks of both personal injury and further damage to the fence itself. Tools utilized by fence repair professionals, such as hand saws and drill guns, can be hazardous without proper handling. Safeguard against bodily harm by opting for the expertise of local fence repair professionals.
Fences serve as guardians of your home, warding off unwanted visitors and ensuring the safety of your loved ones. Incorrectly repaired fences raise concerns for the well-being of children and animals. Trust in the competence of fence repair professionals, and rest assured that your restored fence will provide lasting strength and security for years to come.
Gate Repair?
Butler Contracting's highly trained staff are certified and trained to repair all types of gates and gate operators.

Proud Members Of The American Fence Association
We are proud members of the American Fence Association and our team is trained to build and install fences according to the AFA's industry standards.
Contact Us Today
---
Bastrop County

Learn About Our Fence Repair Process

At Butler Contracting, we offer comprehensive fence repair services to address your needs. We understand that repairing fences is a common requirement, and we have developed a dedicated Fence Maintenance Plan to handle these repairs efficiently. Whether you need minor fixes or significant repairs, our team is ready to assist you.
Speak to a Fence Expert!
When you have questions or are looking for information to get started on your fence project, our team is glad to help! Simply reach out by phone or our online form, and get the answers you need!
Buying a Fence in
Bastrop CountyOur Easy Process
A Process Designed For A Relaxing And Stress-Free Experience
We understand that a fence or outdoor living project in Central Texas can be overwhelming and stressful. That's why Butler Contracting has developed an easy and stress-free process of project management. Our customers can relax and trust that we will handle all the logistics, timelines, and communication, keeping them updated every step of the way. We strive to make the experience seamless and enjoyable for our customers, ensuring that their vision is brought to life while minimizing the stress of a fencing or outdoor living project.
View Our Full Process

Get In Touch
Fill out our form and send us pictures of your space, along with pictures of what you would like it to look like.
We will get back to you with a phone consultation to talk more about your project, then schedule the on-site consultation.

We Get To Work
During the on-site consultation, we discuss things like timelines, scope of work, design, and pricing, and then get to work on your project.
As we work, feel free to let us know if anything is unclear. We will keep you updated and in the loop at all times.

Mission Accomplished
Your property improvement project is now complete and it is everything you wanted! Join us in a post-job walkthrough and make sure everything is perfect.
Once we are finished, it's time to enjoy your new and improved property.
Fence Repair FAQs
Get the answers to our most popular fence repair questions from our customers in the Bastrop County area!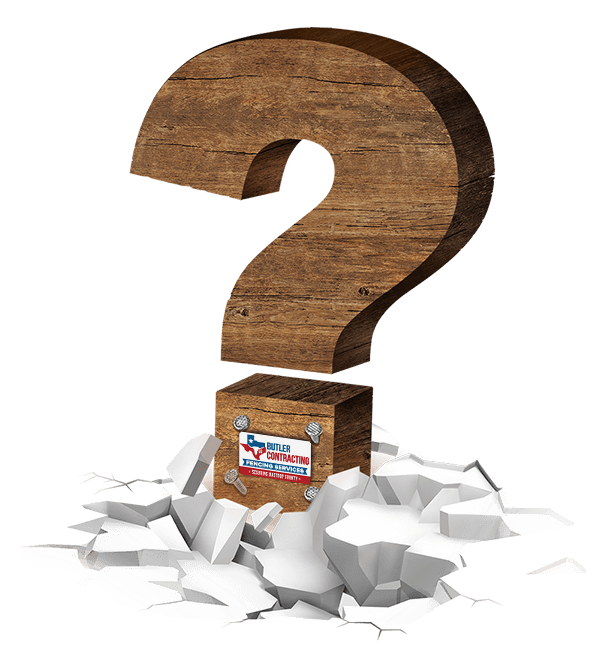 Instant Fence Estimator
It's easy to get a free fence quote in minutes! Simply use our free instant online fence estimator and in 3 simple steps, you will have an idea of your fence options and what they may cost.
Try it today!
Get an Instant Fence Quote!

Frequently Asked Questions
We have the answers to the most asked questions by customers in the Bastrop, Texas area.
Visit our FAQ page to see what popular questions other people have asked and get the info you need.
Explore Our FAQs

Talk to the Fence Pros!
Need to have your questions answered by a professional? Our fence team is here to help! Simply reach out by phone or contact us through our online form. Either way, we have the answers to help you get the best fence solution!
Get Free Fence Consultation